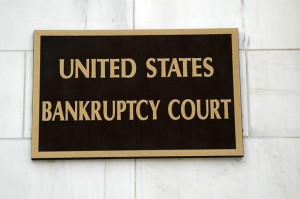 Most bankruptcy filers in Chapter 7 and Chapter 13 cases never have to make an appearance in bankruptcy court.  In most cases debtors simply have to attend a meeting with a trustee, called a 341 meeting of creditors.  These meetings usually do not take place at the courthouse and instead are held at the trustee's office or a conference room in a local hotel or office building.  The bankruptcy judge does not attend the 341 meeting.
On occasion, a debtor may need to attend bankruptcy court in order to testify in support of a motion, confirmation of their plan, or in a hearing on some other issue in their case.  The most common hearings that a debtor attends in a bankruptcy case are on confirmation and motions to dismiss.  Confirmation is the process of getting a plan confirmed, or approved by the court.  If a creditor or the trustee objects to confirmation of a plan, it may be necessary for the debtor to attend court to give testimony in support of confirmation.  For example, if it is unclear how the debtor can afford to make the plan payments proposed in their Chapter 13 plan, then the trustee may object to confirmation of the plan based upon feasibility.  In this situation the debtor may need to come to court to testify why they believe that they can be successful in the bankruptcy case and why their Chapter 13 plan should be confirmed.
Debtors may also appear in court to testify in opposition of a motion to dismiss.  For example, trustees sometimes object to discharge in Chapter 7 cases when the trustee believes that the debtor has the ability to make meaningful payments to her unsecured creditors.  The idea is that only debtors that are truly unable to pay their creditors should receive a discharge under Chapter 7.  These types of motions are not common, but if one is filed then the debtor will need to appear in court to testify regarding her inability to pay her debts.