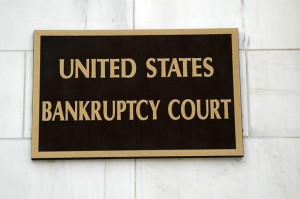 When an individual files bankruptcy everything they own becomes part of a bankruptcy estate.  However, debtors can use the exemptions available to them in the state in which they live in order to exempt specific property from the estate.  Doing so excludes the property from the estate which means that the debtor continues to own the property.
Nonexempt property is significant in bankruptcy cases for different reasons, depending on whether the debtor files under Chapter 7 or Chapter 13 of the Bankruptcy Code.  In Chapter 13 cases debtors are required to pay an amount equal to their nonexempt property to the unsecured creditors that file claims in their case.  In Chapter 7 cases nonexempt property can be liquidated by the trustee so that payments can be made to the unsecured creditors.
In Chapter 7 cases the nonexempt property of the bankruptcy estate vests back with the debtor if the trustee abandons her interest in the property.  This might happen because the cost of administering the estate is greater than the value of the nonexempt property, making liquidating the assets for the creditors impracticable.  In Chapter 13 cases filed in the Northern and Eastern Districts of Texas, nonexempt property vests back with the debtor upon confirmation of the plan.  This means that ownership of the property is transferred from the bankruptcy estate to the debtor when the plan is approved by the bankruptcy court.
In Chapter 13 cases, most debtors never know that ownership of some of their property has passed to the bankruptcy estate, because there is no liquidation of assets in these types of cases.  The transfer of ownership has very little effect on the debtors, other than affecting their Chapter 13 plan payment and putting a restriction on the transfer of their nonexempt property until after confirmation of the plan.  Debtors who wish to sell or dispose of their nonexempt property prior to confirmation of their plan must obtain permission from the court or from the trustee, depending on the local rules in the district in which the case is filed.