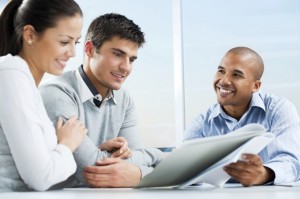 Chapter 13 bankruptcy is a great way to reorganize debt and to catch up on missed payments to secured lenders.  Chapter 13 debtors file a plan to reorganize their debt with the court.  These plans state that the debtor will make payments to a trustee each month for three to five years.  The plans address all of the filer's debts.  Debtors cannot leave any creditors outside of their Chapter 13 plan.
Creditors are treated differently depending on the type of claim they hold.  Secured creditors can be paid in full in the plan, paid outside the plan by the debtor, or their claim can be surrendered and discharged with no payment.  Debtors can also propose to continue paying the claim directly to the creditor while curing missed payments (arrears) in the plan.  Chapter 13 bankruptcy allows debtors to get caught up on payments to secured lenders while under the protection of the bankruptcy court.  Bankruptcy protection is called the automatic stay, and it prevents collection of debt from the debtor while the bankruptcy case is active, without court permission.
Unsecured creditors, like credit cards, medical bills, personal loans, and student loans, are paid in the bankruptcy case only to the extent that the debtor can afford to make payments to these creditors.  Debtors are required to dedicate their disposable income to the unsecured creditors.  If the debtor has no disposable income then these creditors are not paid in the bankruptcy case, and at the end of the case all unsecured claims are discharged, with the exception of student loans.  Student loans are typically nondischargeable in bankruptcy cases.
Debtors can discharge significant amounts of debt in these types of cases, while protecting their property.  Unlike Chapter 7 bankruptcy, there is no liquidation of the debtor's assets by a trustee.  All money used to fund the Chapter 13 plan comes from future payments by the debtor.  The bottom line is that if you need to protect your property from foreclosure or repossession, are being sued, or have debt that you cannot afford to pay, then Chapter 13 bankruptcy may be a very good option for you.