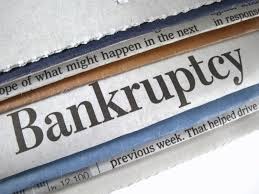 Chapter 9 bankruptcy is reserved for municipalities.  Basically, when a city gets into financial trouble and cannot repay its debts, Chapter 9 bankruptcy gives it a way to reorganize its financial obligations.  Earlier this year Detroit filed for bankruptcy relief under Chapter 9.  Cities in Chapter 9 must show two things in order to qualify for relief: insolvency and that it has made a good faith effort to negotiate with its creditors.  However, the second requirement may be satisfied if Detroit can show that there are too many creditors to make negotiations feasible.
Detroit filed a list of creditors earlier this month and that list filled 3,504 pages.  That would seem make negotiation with creditors infeasible.  Detroit is currently $18 billion in debt of which $12 billion is unsecured.  The largest unsecured creditors are two pension funds.
Detroit's financial trouble has been growing for many years.  The population has dropped from 1.8 million people to 700,000 since the 1950s.  Many companies that used to call Detroit home have since closed or moved, which has contributed to the decline in population.  Fewer people and businesses means less tax revenue.  At the same time, crime has surged which has resulted in more expenses for city and county governments.
Filing Chapter 9 bankruptcy isn't a guarantee of future relief for Detroit.  Eligibility for relief will not be determined until the court holds a hearing on this matter on October 23.  If Detroit is found eligible then it will be largest municipal bankruptcy case in U.S. history.  The cities goal is to emerge from bankruptcy in late 2014, but because of the number of parties involved, and the size of the debt to be reorganized, this process may take much longer.
Source:  Reuters.com