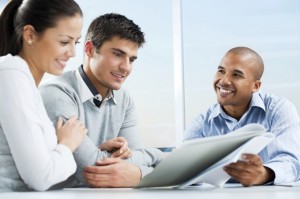 When a client retains me for the first time, I give them a workbook to fill out.  The workbook contains all the information I need in order to prepare the petition, schedules, and statements that must be filed with the court as part of a bankruptcy filing.  On the front of the workbook I provide a list of additional documents I need for the petition.  This list includes:
The declaration page for homeowner's insurance on debtor's home
The declaration page for automobile insurance
Income records for all income received during the last six months
Bank statements for all accounts for the last three months
Tax returns for the last two tax periods
Copies of any divorce decrees that divide community property
Child support orders
Bills or statements for any debts
Lease agreements
Profit and loss statements for any business owned by the debtor
Most of these documents are things that my client has around the house or can easily print off the internet.  Pay stubs tend to be the most problematic category.  Most people don't keep their pay stubs.  They look at them and then throw them away.  However, bankruptcy attorneys need to see each stub received during the six months prior to filing bankruptcy.
Debtors often throw away bills and statements of debt as well.  Before filing bankruptcy many clients are tired of receiving threatening letters from bill collectors and don't look at them anymore.  However, it makes preparing a complete list of creditors much easier if I have statements of debt to cross-reference against the debtor's credit report and the information contained in the workbook.
The workbook should only take a few hours if my client has the documents listed above in their possession.  Once I have a completed workbook and all of the documents listed above I can usually prepare a bankruptcy petition within four to five days. Once completed I meet with my clients again to review the document together and then the petition is signed and filed with the court.
For additional information about the documents need to prepare a bankruptcy petition, contact a Richardson TX bankruptcy lawyer.