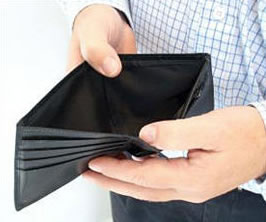 Are you struggling with debt in Parker, Texas?  Debt can create stress that affects your family life, marriage, and your health.  Ignoring the problem won't make it go away.  Interest, late fees, and attorney's fees will cause the debt to grow.  Eventually a creditor may sue you, and once they have a judgment they may garnish your bank account, attach liens against your assets, or seize your nonexempt property.  Fortunately, there are federal laws that allow consumers and small businesses to eliminate or reorganize their debt.  Bankruptcy may allow you to discharge your debt, protect your home, car, and other property, and get a fresh start.
Get Control of Out of Control Debt
Are you are behind on your credit card payments, late on mortgage or car payments, or receiving threatening calls from creditors?  Are you being sued by debt collectors or are your wages or accounts being garnished?  You can stop the harrassment.  The Bankruptcy Code offers protection for debtors against debt collection by creditors.  You may be able to stop:
Foreclosure of your house
Repossession of your vehicles
Pending lawsuits
Judgments
Harrassement by creditors
Wage garnishment
Bankruptcy protects debtors while offering them permanent relief from their debt.  Chapter 7 bankruptcy allows debtors to discharge many types of debts, which permanently shields the debtor from collection of these debts.  Chapter 13 bankruptcy allows debtors to reorganize their debts, giving them an opportunity to cure past due payments on secured property like cars and houses.  Debtors in Chapter 13 bankruptcy may also be able to permanently discharge many of their debts with little or no repayment.
Contact Us to Schedule a Free Consultation with a Bankruptcy Lawyer
I offer free evaluations of financial situations for bankruptcy clients.  It costs you nothing to find out if I can help you with your financial situation.  Please contact me, a Parker TX bankruptcy attorney to schedule a meeting to discuss your situation.