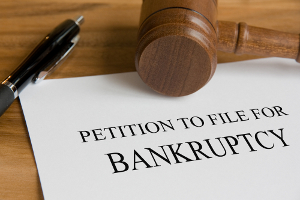 The primary test for determining whether a debtor should receive a discharge under Chapter 7 of the Bankruptcy Code is the means test.  A means test is used to determine whether the debtor has any disposable income.  This document uses the average income for the last six months to determine the debtor's current monthly income.  Standard IRS deductions are subtracted from the current monthly income to determine whether or not the debtor has disposable income that can be paid to the unsecured creditors.  Too much disposable income and it is presumed that granting bankruptcy relief is an abuse of the provisions of Chapter 7, and the U.S. Trustee may file a motion to dismiss the case.
If the debtor does not have disposable income or if he does and the presumption can be rebutted then the U.S. Trustee may not file a motion to dismiss.  However, sometimes they still do, and these types of motions are usually filed under 11 U.S.C. 707(b)(3).  This section considers whether the petition was filed in bad faith and also takes a look at the totality of the circumstances.
The name of the totality of the circumstances test is a fair description of what is considered in determining whether to dismiss a case.  This test considers the debtor's situation as a whole and whether a Chapter 7 discharge warranted.  For example, if the debtor meets the requirements of the means test but has significant disposable income on their Schedules I and J, then the U.S. Trustee may determine that the debtor has the ability to pay a portion of their debt outside the bankruptcy case, and Chapter 7 is not appropriate.  Similarly, if the debtor's income is significantly higher after filing bankruptcy than before the petition was filed, then the U.S. Trustee may file a motion to dismiss the case based upon the debtor's ability to pay his debt.
A motion to dismiss based upon bad faith usually refers to wrongdoing by the debtor.  The U.S. Trustee may object if the debtor is a serial filer, especially if each case is filed soon after the debtor becomes eligible again.  A motion to dismiss might be filed if the debtor incurs a large amount of debt right before filing the bankruptcy case.  These actions imply fraud on the part of the debtor.  Bad faith encompasses a lot of different actions.  If something seems like it is improper but no other grounds for a motion to dismiss applies to the facts, then the bad faith objection is used.