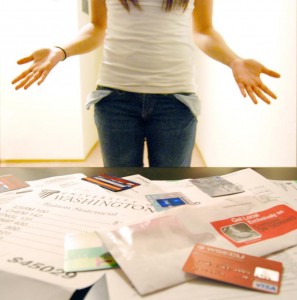 An automatic stay goes into effect upon the filing of a bankruptcy petition.  This stay prevents creditors from attempting to collect any debt incurred before the date of the bankruptcy filing.  Almost all types of collections activities are prevented by the stay, including collection letters, telephone calls by creditors, attaching liens against property, garnishing wages or bank accounts, lawsuits, and seizing property.  However, in order to be effective the creditors need to know that bankruptcy has been filed.
When a bankruptcy case is filed, the court sends out notice of the bankruptcy filing to all of the creditors listed in the mailing matrix filed with the court.  In Chapter 13 cases the plan is also sent to the creditors by both the court and by the debtor's attorney.  If a creditor is not listed in the matrix then they will not receive notice of the bankruptcy case and may continue to attempt to collect the debt even after the bankruptcy case is filed.  These creditors are technically in violation of the automatic stay but it is unlikely that a court will hold them accountable for violating a stay they didn't know about.
As a general rule, I tell my clients that the creditors should stop calling within seven to fourteen days.  That is a reasonable amount of time for the creditors to get notice of the bankruptcy filing and to update their records.  After filing bankruptcy debtors should stop hiding from creditors.  They should start answering their telephone and make sure to tell any creditor that calls that they have filed bankruptcy.  Being proactive in this way will get the message out to the creditors that the debtor is off limits much faster.  In addition, answering the phones in this way will help to identify creditors that were not listed in the schedules filed with the court, so that the debtor's attorney can amend the schedules to ensure that the creditor is discharged.